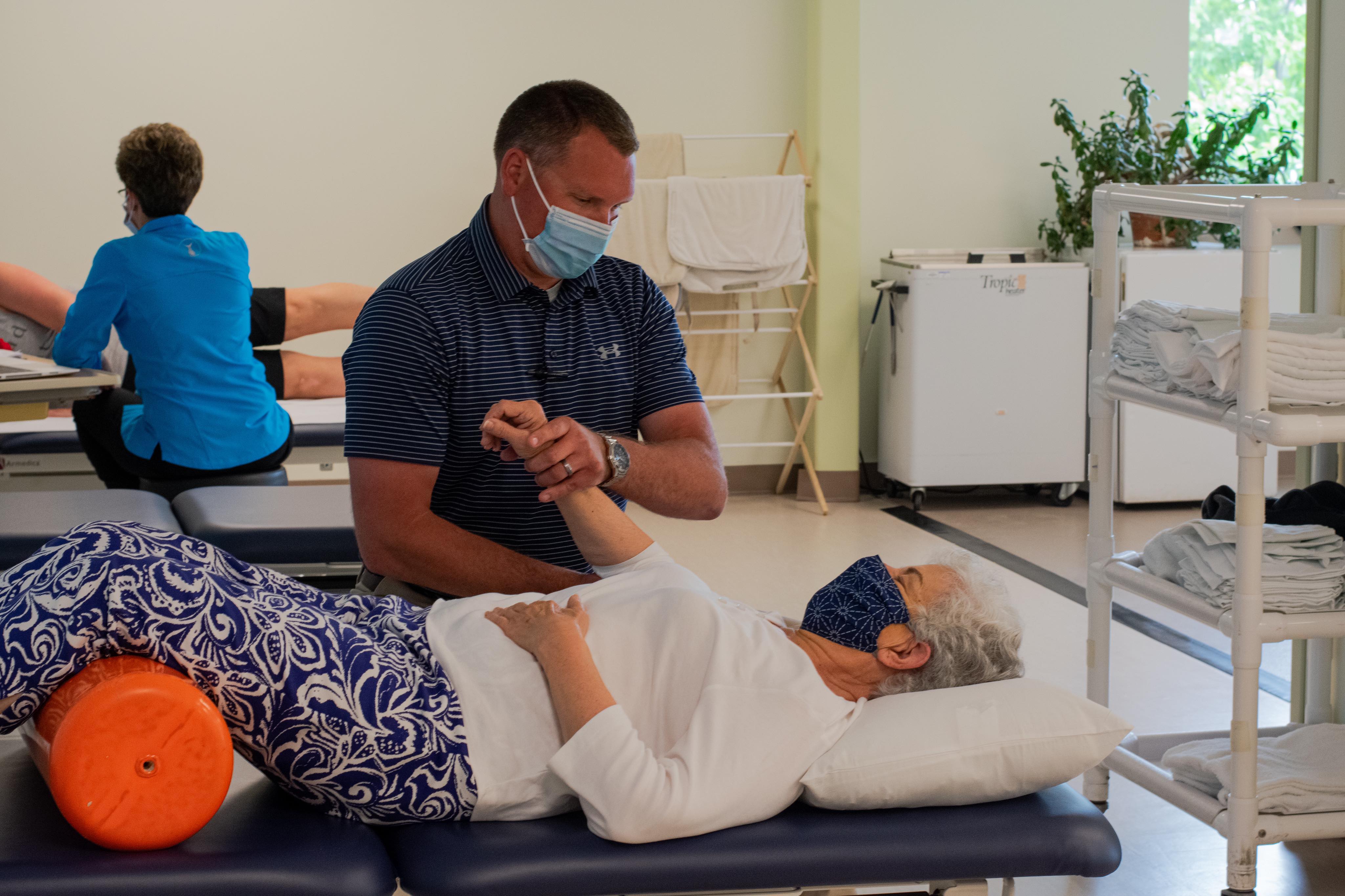 In March 2020, just days before the COVID-19 pandemic paused all elective surgeries at New York State hospitals, Karen Peters went to Upstate Medical University for a complete shoulder replacement. While surgery went extremely well, she had a long road to recovery and full mobility. She knew a large part of her recovery was going to be in-person physical therapy.
"Once cleared to begin therapy, I immediately called River Hospital's Physical Therapy department to ensure it was safe for me to schedule the first appointment," said Karen.
The River Hospital Physical Therapy Department moved into their new space in the Medical Office Building in April 2020, during the pandemic, which allowed for increased space for treatment that satisfied social distancing requirements.
Not only was Karen excited about getting her treatment started, she was thrilled to be able to see the new Physical Therapy space. She knew that the new space would be beautiful and functional. She was also very aware that all precautions were being taken for her safety and the safety of all staff.
"I felt very comfortable coming into River Hospital's healthcare facility during COVID-19. I was reassured that all safety precautions were going to be taken during my appointment, while putting me at ease. Coming to River Hospital was important to me and being in the new space was an added comfort," said Karen Peters. "I would encourage anyone who needs to Physical Therapy right now, to come and get the care needed. While it is important for all to be cautious in this current health crisis, River Hospital is doing the right thing for their patients and staff. "
Karen completed over 6 weeks of Physical Therapy on June 5. She feels better and better each day, and is already looking forward to surgery for her other shoulder replacement, accompanied by more Physical Therapy at River Hospital!
If you or someone you know has questions about accessing any service at River Hospital, please call 315-482-2511 and let us help you navigate care.