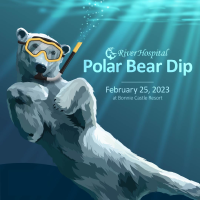 The 33rd Annual Polar Bear Dip will be BACK IN PERSON on Saturday, February 25, 2023 at the Bonnie Castle Resort! We will continue to offer the Virtual Dip Challenge for all ages and locations throughout the month of February and encourage you to get creative with your costumes, videography and cold-water encounters.
Please register for the Polar Bear Dip in advance here and begin your fundraising online! All registrants will still wait in line to recieve their Dipper number on February 25th at Bonnie Castle. Registration on the day of the event will be inside Bonnie Castle Resort 9:00AM-NOON. Dipping begins at 1:00PM.
All in-person Dippers must be at least 18 years of age.
Your personal investment in excellent, local healthcare on the River has helped grow our operations, modernize our facility and support our community and patients through a global pandemic. Fundraisers like the Polar Bear Dip help ensure River Hospital continues to deliver sustainable healthcare close to home, for generations to come.