Last year, River Hospital's Annual Polar Bear Dip raised more than the goal of $50,000 – and it was the first Dip event held exclusively on the internet. With safety in mind it will be held as a virtual event again in 2022, with no diving into any body of water. In virtual format, teams and individual Dippers can participate from anywhere and, like last year, including those younger than the age of 18.
One team that will make a return appearance for this year's Polar Bear Dip is Team Huguenot. Core members of the team are Kathleen Davey of Connecticut and her nephew, Michael Harmon of Massachusetts. Deriving its name from Huguenot Island, the site of their family cottage, Team Huguenot has participated annually since 2011.
"The size of our group has ranged between five and eight people over the years; Team Huguenot is deeply committed to helping River Hospital," explains Ms. Davey. "My Uncle found Huguenot Island when he was stationed at what is now Fort Drum during the Second World War, and our family has returned every year since," she continues. "The river community has done so much for our family, and the Polar Bear Dip offers us an opportunity to give back. For us, the Dip itself has taken on great meaning. It's a family affair."
Mr. Harmon agrees. "We look forward to the day when Team Huguenot can return to the Dip in person;
the river community has become an extended family. This event gives us a welcome chance to gather
with family and river friends over the winter, while supporting a very worthwhile cause. In 2014, our
friends Gary and Lesa Plantz helped me to arrange my marriage proposal to my wife, Colleen, on the dock, moments before we jumped for River Hospital. Lesa even served as our engagement photographer. In 2015 we timed our honeymoon specifically to return home in time for the Polar Bear Dip. This event has become an integral part of our family tradition. In person or virtually, we wouldn't miss it."

Claire Wakefield, River Hospital's Development Coordinator, explains how to participate in the 2022 Polar Bear Dip. "The first step for Dippers is to register," she explains. "Information on how to register or donate to River Hospital's 2022 Polar Bear Dip can be found under the News and Events tab at riverhospital.org. The minimum amount to raise is $50 per person in order to be registered for the event."
Once registered, Dippers start planning their virtual dip. All are encouraged to use their imagination, and submit their video; from taking an ice bath to water balloon fights in the snow to making snow angels, everything qualifies except jumping into a body of water. Participants will record video of their Dip, then post to YouTube or send to River Hospital by February 13th. The final event, to include participant submissions and live judging, will be held online at 1p.m. on Saturday, February 26th.
Ms. Wakefield continues, "During the online event, our panel of judges will evaluate which adult, child and team have raised the most money and, as always, Best Technique and Best Costume(s) for each category. Trophies will be mailed to winners after the event. We are very excited to see what Dippers come up with this year!"
The 2022 Polar Bear Dip stands to be every bit as fun, exciting and helpful for River Hospital as every year. Dippers are asked to follow all applicable COVID-19 guidelines. It is important that they not jump into the river, as near-freezing water temperatures present dangers and risks.
"We're excited that Dippers from everywhere can join in the fun again this year," says Stephane Weiss, River Hospital's Executive Director of Development. "Our local and extended communities have always been very generous in supporting River Hospital, and we greatly appreciate their help. This year's proceeds will be used to purchase new equipment for the Emergency Department including two cardiopulmonary monitors."
Please call Development Coordinator Claire Wakefield 315-482-4976 with questions.
By Wayne Strauss, Contributing Writer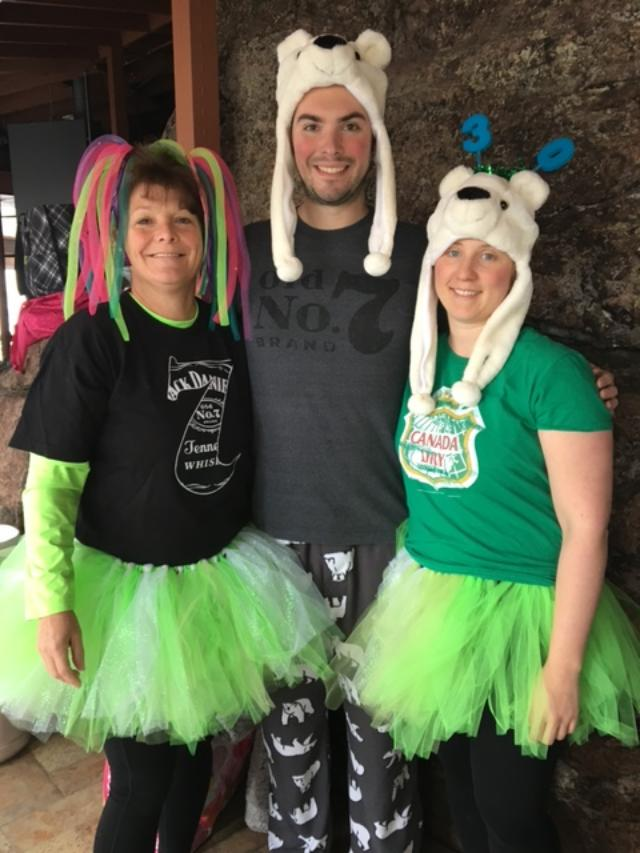 Pictured at the 30th annual dip, left to right: Kathleen Davey, Michael Harmon and Colleen Harmon