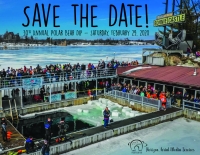 Watch the LIVE FEED HERE!
We are excitedly making plans for the 30th Annual Polar Bear Dip on Saturday, February 29, 2020 (yes, it's LEAP DAY!) at the Bonnie Castle Resort and hope that you will want to make another appearance and thrill the crowd with your style & bravery. The 30th Annual Polar Bear Dip will raise funds to modernize the patient rooms in the Inpatient Unit located on the 2nd Floor of River Hospital.
It's time to begin your appeals to family, friends and business buddies to raise the minimum registration fee of $100.00 (per dipper). Of course, the object of the event is to raise as much money as we can while having fun. You can still raise money for your Dip by using GoFundMe.com. This year you will visit https://charity.gofundme.com/o/en/campaign/30th-annual-river-hospital-polar-bear-dip-february-29-2020 to form a team under the 30th Annual Polar Bear Dip at GoFundMe Charity.
Your GoFundMe Charity information, Pledge Form, Rules and Release of Liability can be found here.
If you have questions, feel free to contact The Friends of River Hospital by e-mail at This email address is being protected from spambots. You need JavaScript enabled to view it. or phone 315.482.1270.